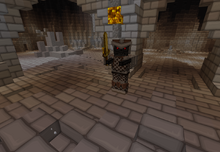 Nexx is the second boss, he is level 50 and is found in the center of "The City" in a giant dome, you must cross and broken bridge to get to him but don't worry if you fail you can swim to the other side! Nexx seems to be some kind of frost mage as his abilities revolve around frost or snow.
This monster has (#)hp and deals (#) dmg to a player without armour, upon death he gives 1090xp and 5080 money.
His abilities are:
Frost Orb: Nexx fires a orb of frost at surrounding players
Dash: Nexx dashes towards the player sending them flying and dealing damage
Crystal Summon: Nexx summons a crystal that while it is up you cannot damage Nexx, this happens 4 times before he finally dies
Summon (Nexxs): Nexx summons 2 Freezing Blizzards around each player, for some reason when he uses this it just says "Nexxs".
Wither Aura: This activates after the 4th crystal and gives all players in the general area wither two, it also doesn't say when he casts this
Drop Table:
| | | |
| --- | --- | --- |
| Name | # | Chance |
| Brave Tunic | 1 | 9% |
| Brave Chaps | 1 | 9% |
| Brave Helm | 1 | 10% |
| Brave Boots | 1 | 12% |
| Golden Sword | 1 | 10% |
| Tier 2 Crate Key | 3 | 30% |
| Dragon Helm | 1 | 20% |
| Dragon Tunic | 1 | 20% |
| Dragon Chaps | 1 | 20% |
| Dragon Boots | 1 | 20% |
| Vicious Dragon Helm | 1 | 8% |
| Vicious Dragon Tunic | 1 | 7% |
| Vicious Dragon Chaps | 1 | 7% |
| Vicious Dragon Boots | 1 | 9% |
| Torva Full Helm | 1 | 0.7% |
| Torva Tunic | 1 | 0.7% |
| Torva Chaps | 1 | 0.7% |
| Torva Boots | 1 | 0.7% |
| Bone Breaker Mace | 1 | 7% |
| Stattrack Bone Breaker Mace | 1 | 4% |
| Melodic Axe | 1 | 2% |
| Stattrack Melodic Axe | 1 | 1% |
| Obsidian | 64 | 80% |
| Diamonds | 35 | 40% |
| Diamonds | 64 | 30% |
| Diamonds | 5 | 100% |
| Iron Ingot | 50 | 40% |
| Iron Ingot | 20 | 70% |