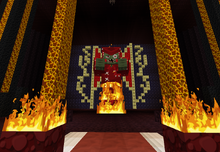 JAD is the third boss and is level 70. he is located in his castle in the "Morgate" realm, found right at the end of the path if you keep following it and using the signs to help guide you. He is a giant flaming zombie wearing leather armour. His hit box is in his legs so it is easy to attack him.
JADs Abilities:
Fireball: JAD fires a ball of fire at you
Summon: JAD summons priests to heal him. This happens once he reaches 50% of his overall hp
Stomp: JAD stomps the ground sending players flying into the air unless they jump as the ability is used.
JAD has 22,000hp and deals (#) dmg to a player without armour, Upon death he gives 2069xp and 5190 money.0
Drop Table:
| | | |
| --- | --- | --- |
| Name | # | Chance |
| Tier 2 Crate Key | 5 | 12% |
| Obsidian Maul | 1 | 3% |
| Noxious Helm | 1 | 3% |
| Noxious Tunic | 1 | 3% |
| Noxious Chaps | 1 | 3% |
| Noxious Boots | 1 | 3% |
| Obsidian Sword | 1 | 4% |
| Stattrack Obsidian Sword | 1 | 2% |
| Stattrack Obsidian Maul | 1 | 3% |
| Obsidian Helm | 1 | 14% |
| Obsidian Tunic | 1 | 12% |
| Obsidian Chaps | 1 | 12% |
| Obsidian Boots | 1 | 14% |
| Bandos Helm | 1 | 0.07% |
| Bandos Tunic | 1 | 0.07% |
| Bandos Chaps | 1 | 0.07% |
| Bandos Boots | 1 | 0.07% |
| Obsidian | 64 | 80% |
| Diamond | 35 | 40% |
| Diamond | 64 | 30% |
| Diamond | 5 | 100% |
| Iron Ingot | 50 | 40% |
| Iron Ingot | 20 | 70% |